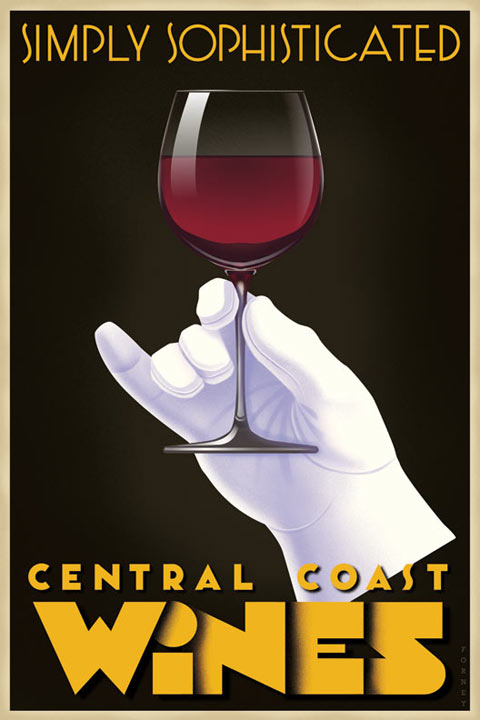 "Simply Sophisticated" is a new image I created for the Just Looking Gallery in San Luis Obispo, California. Everyone is familiar with the Napa Valley and their world class wines.  California's Central Coast is an up and coming wine country with wines that rival those from Napa and Sonoma counties.  This poster is strongly influenced by the Art Deco product posters of the 1930s.  It's very straightforward, just a white gloved hand holding a glass of the Central Coast's finest red.  This poster gave me an opportunity to use the playful overlap style evident in art deco style posters.
This image was created in both Adobe Illustrator and Photoshop. The final final was quite large at 36″ x 24″ at 300 dpi.  The type and wine glass were both created in a separate Illustrator file.  The lettering paths were then pasted into the final Photoshop document, while the glass was finished in Illustrator and pasted into Photoshop as a smart object.  The glove was created in a separate Photoshop file and pasted into the final file.   It was illustrated using the airbrush tool in both the regular and dissolve modes.
A separate version was created with a distressed texture.  This was done in Photoshop using actual scanned paper textures which were turned into masks.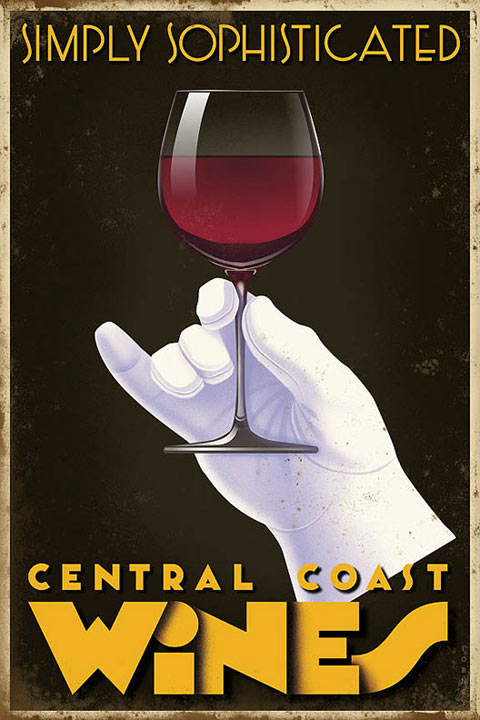 http://steveforney.com/wp-content/uploads/2015/10/SimpSoph_icon1.jpg
180
180
Steve
http://steveforney.com/wp-content/uploads/2019/06/VinylOTLogo.gif
Steve
2015-10-01 11:35:31
2015-10-20 10:10:53
Steve Forney's Simply Sophisticated California Wines