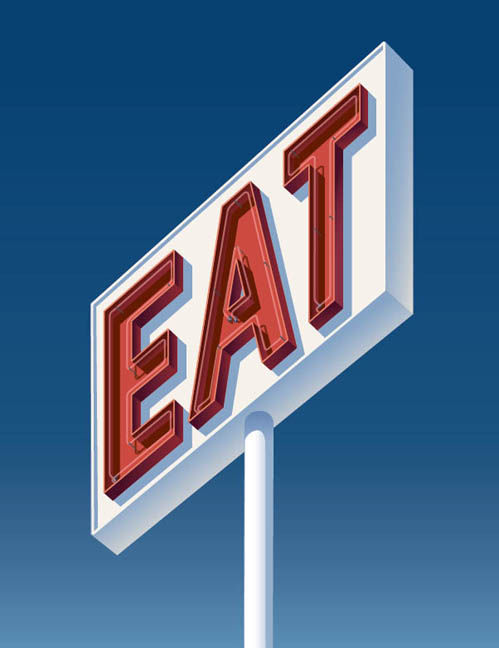 Post World War II roadside Americana is a subject that has always caught my attention.  Having grown up in Southern California in the 1970s, these signs, many of them neon, were are fixture on the landscape.
As a boy I can remember trips to Arizona along Highway 10.  Past San Bernardino in Cabazon there were the giant dinosaurs that I'd look forward to seeing.  Near my hometown of Claremont there was the Mt. Baldy drive-in theater with it's neon skiers flying down the slope.  Unfortunately the sign and theatre were razed to make way for a shopping mall.
During the 1980s I made frequent trips from the San Francisco Bay Area to Los Angeles.  Along Interstate 5, just south of the Grapevine in Frazier Park, there was a giant neon sign with just 3 simple letters:  E A T.  There was no doubt about the message this sign conveyed.  It beckoned hungry motorists for miles with its simple message.
On a recent trip to Southern California I passed through Frazier Park.  Much to my dismay, the giant EAT sign was gone.  Oh well, another relic of the past is no more.  Perhaps one day I'll take a trip along historic Route 66.  From the photos I've seen, there are still many neon signs for motels, service stations and diners.  Neon seems to be an art that is rarely used today.  That's a shame because it really is beautiful.  Perhaps it is too expensive to create, install and maintain.
The giant EAT sign must have become imbedded in my subconscious as it came out on the page of a sketchbook while doing random doodles.  This would be a fun project to recreate in Adobe Illustrator, so I did just that.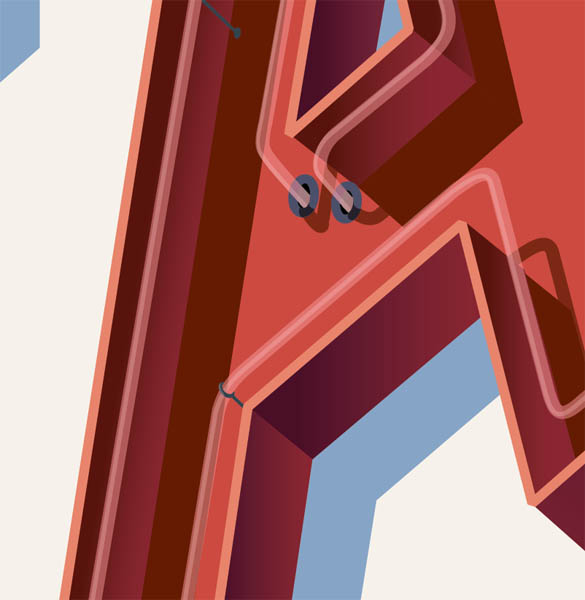 Here is a close up of the image.  The transparency was reduced on the neon tubes to convey the feel of transparent glass tubes.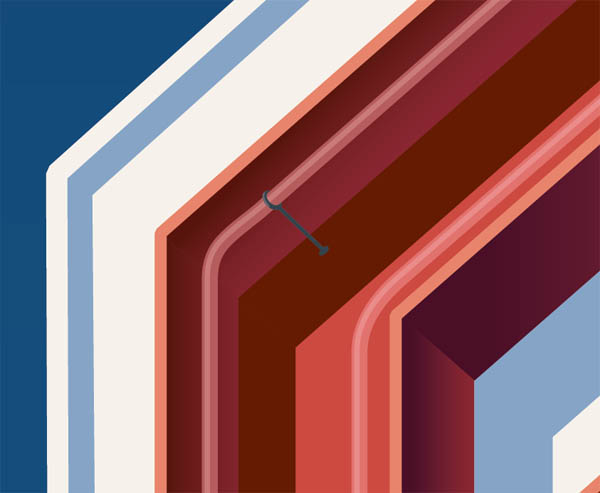 Another close up of the letter E with its neon tubes and bracket holding it in place.  Perhaps I should do a version at night when the sign is lit up in all of its neon glory.  Hey, that's an idea suitable for Photoshop.
http://steveforney.com/wp-content/uploads/2015/02/forney_EAT_sign.jpg
648
499
Steve
http://steveforney.com/wp-content/uploads/2019/06/VinylOTLogo.gif
Steve
2015-02-26 16:31:46
2015-02-27 12:03:27
Steve Forney's Vintage Roadside Eat Sign