Meet Illustrator Steve Forney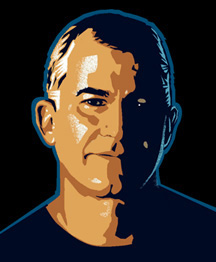 Oakland, California-based Steve Forney is now in his 20th year of providing quality illustrations for a variety of clients.
Steve has been drawing as long as he can remember. As a child, he would often ignore his mother's calls to come to dinner so that he could continue drawing.
In 1991, he graduated with a B.A. in Political Science from the University of California, where he would often doodle in his notebook during his professors' lectures. Following graduation, he decided to pursue his artistic impulses and dove into freelance illustration and he hasn't looked back.
Steve's assignments range from editorial work to national advertising campaigns. From the initial concept to the final art, Steve brings a passion for his craft. He enjoys collaborating with his clients and strives to create illustrations that exceed their expectations.
Give him a call at 510-653-4523 and let him help you with your next project. Or simply click here to send Steve an email.
Thank you for your interest in Steve Forney Illustration.